About Us
Company History
W & W Plastering is a family run business founded and run by brothers Danny & Tony Wilson, who collectively have over 50 years of combined industry experience in all aspects of plastering.
Having spent their formative years, learning and developing within a number of small and large size companies, they took the very best of everything they have learned, and then made the bold step to branch out and form their own company W & W Plastering in 2001.
In that time the business has grown steadily through organic growth, and has undertaken a diverse range of work, from working on residential properties, through to high profile contracts for major PLC companies, Top West End 5 Star hotels refurbishments, and also famous pop musicians and TV and film celebrities, all expecting and all receiving the highest standards of workmanship.
We are fully qualified at advance craft level within our trade, thus allowing our customers to the highest levels of service and craftsmanship, and we are proud members of The Plastering Guild.
Our wealth of knowledge and specialist skills, coupled with an ethical, considerate and friendly attitude towards everyone of our clients, has allowed us to generate a loyal and ever returning customer base, although to continue with our expansion goals, we continue to welcome the opportunity to make new contacts, and develop new working relationships.
Full Cycle - Project Management from Start to Finish on all jobs…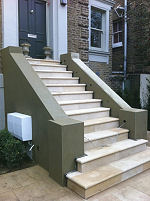 Our wide range of expertise allows that we can ensure that your plastering contract is completed entirely by us from start to finish, offering a seamless integrated approach, without you being faced with the need to contact multiple companies, which with it can bring the associated communications and scheduling issues.
The ethos of W & W Plastering is quite simply to reach a level of craftsmanship and service which is unrivalled by our fellow plasterers, working in our area.
Please feel free to now contact us for an initial complimentary meeting and discussion to allow us the chance to provide you with more details on our team & our services, and if relevant a full working specification and contractual quotation for your needs…